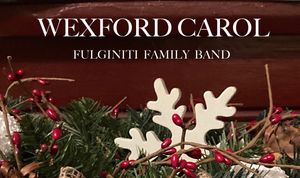 Fulginiti Family Band is proud to share our 3rd annual holiday single with you, Wexford Carol.  It's a beautiful Irish melody, sung by Bailey & Ally, against a backdrop of handbells, flugelhorns and bass, played by Tom Herr and I.  Of the 3 holiday singles we've done, this one is easily my favorite. 
We're giving the track away for free, to everybody who wants to listen. But as always, we're also hoping to do some good in the community with it by asking for donations.  The money will go to a special, grass-roots operation in Lancaster called "My People On The Streets", administered by Dave Costarella.
Dave is the real-life angel who collects and distributes food, clothing and other essentials to those living on the streets of Lancaster.  Dave goes out several nights per week from fall through winter, and has a huge impact on the well-being of those in our community that have fallen on hard times.  Dave has also created an outstanding booklet aimed at helping communities and municipalities to better understand the needs of the homeless.  
Dave's living room is filled with clothing to distribute and his kitchen is where he prepares the meals he hands out.  It's a beautiful act of love, but it comes with expenses.  Donations will go to helping Dave get what he needs to continue the work of caring for those on the streets. 
For more on "My People On The Streets", see Costarella's webpage at: http://www.dcandco.net/streetproject.htm 
To download Wexford Carol and/or make a donation, go to www.toddfulginiti.com. The Wexford link is right there on the home page, or you can download it directly from this blog.
We tend to think that homelessness is a far away problem that could never happen to us, but that's not really true.  It's closer to many of us than we might admit.  It may only take one or two big setbacks to put us in that position ourselves. 
Please share Wexford with your friends and encourage them to donate as well. 
Thanks, Merry Christmas, and Best Wishes for a Happy New Year!