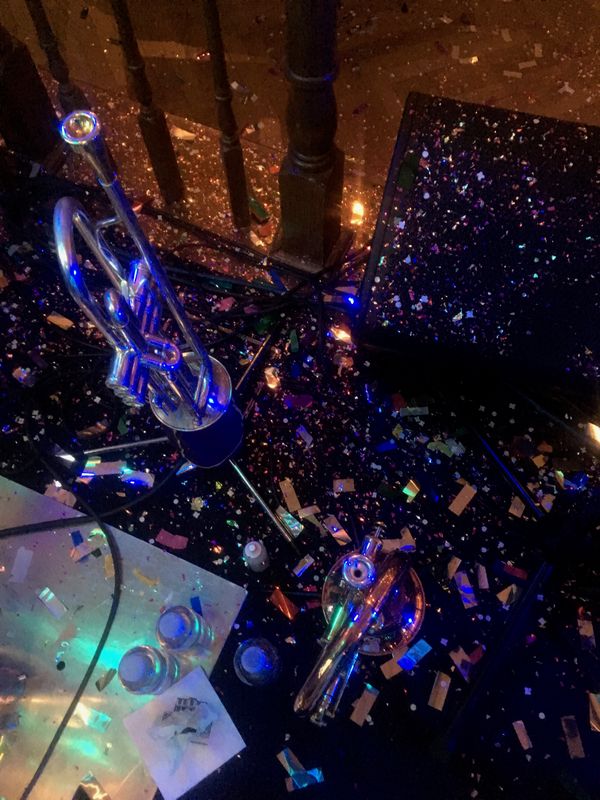 For obvious reasons, this was without a doubt, the strangest year of my career.  But despite my calendar being a scribbled mess of cancelled gigs (I really should've used a pencil), there were some exciting and fun things that happened in 2020.  And as I sit here looking at my nearly empty 2021 schedule, I'm feeling a bit nostalgic about the pre-Covid gig days and (believe it or not) the few good things that 2020 did bring. 
Here are 3 of my favorite moments from a totally unusual year. 
Todd Fulginiti Quartet presents Chet Baker Sings: 
This was the first of what was planned to be a monthly classic jazz series in the An Sibin room of Tellus 360.  It was memorable for me because I was so excited to play the music from one of my all-time favorite albums.  I was also pretty nervous about the singing.  It's a style I don't do much of, plus Chet's voice is so unique, and it was a concert situation with people paying to be there and listen.  Had we been playing background music in a bar, I would have been more comfortable.  It was a stressful yet satisfying experience to have stepped out of my comfort zone to try something new. 
Adding to the stress, was my morning misadventure that day with cleaning out my horn.  It's not usually a good idea to do that before a gig unless you clean your horns often, which I don't.  The thinking is that if you remove too much dirt and scum out of your dirty horn, it will play slightly to somewhat differently than you're accustomed to.  I've found this to be true, yet decided to proceed anyway.  My horn is old, and the valve markings are worn off.  More worn off than I thought.  After the cleaning, I couldn't get my valves back into the horn in the right sequence, meaning that no air would go through it.  (Yep- embarrassing.  I should't even be admitting this.). Anyway I had to use a different horn and ended up playing flugelhorn for much of the gig.  This may not sound like a big deal, and it isn't really, but when you have a certain sound in mind for yourself, it just adds to the discomfort level when you have to alter your thinking at the last minute. 
Anyway- all things considered it was a good day and a chance for this middle-aged dog to try some new tricks.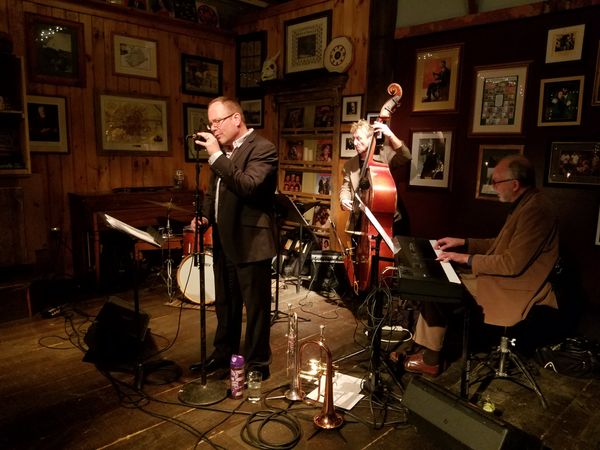 Todd Fulginiti Quartet performing the Chet Baker sings album in February.
Rise Up Awaken 
Continuing on the path of trying new things, and while all my gigs were cancelled, I wrote and recorded an original song called Rise Up Awaken.  I write stuff all the time, but it's almost always instrumental, so I thought writing a "real song" would be fun.  It was!  Again, I was out of my comfort zone a bit with the vocal style, but was happy overall with the way the track turned out.  Tom Herr pitched in on bass and guitar, and I even got my wife Tammy to play flute on it after a 20 year lay-off.  Steve Puffer at Parallel Productions was very patient with me as I stumbled my way through half-baked ideas until we landed on something workable.  To finish it up, I went around Rehoboth Beach, DE and Lancaster, PA shooting footage which I used to create a video for the song.  Check it out: 
Wexford Carol/My People On The Streets 
For the third year in a row, the Fulginiti Family Band (my daughters Bailey and Ally, Bailey's boyfriend Tom, and myself) recorded a Christmas song to use as a fundraiser for a local cause.  We chose Wexford Carol, and donated the money to our friend Dave Costarella's homeless project called "My People On The Streets".  I'm proud of the way the music turned out, and I'm very grateful for everybody who donated to our cause. We were able to give Dave a check for $1500, by far our most successful project so far! 
Even though Christmas is over, it's still ok to listen to the track if you want.  Here it is:
Music-wise, 2020 was rough, but it wasn't all bad, and it gave me the time to stretch out and experiment.  I don't think any of us really know if things are going to better musically this year or not.  We're certainly hopeful.  In the meantime, there are 6 NFL playoff games this weekend and I plan to watch every one.