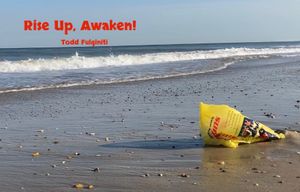 As has been mentioned a zillion times by everybody since the pandemic hit, the slower lifestyle/cancelled gig calendar caused by Covid has made it easier to find time to do some this things we always talked abut doing but never did.  For me, one of those things was to write and record an original song that wasn't an instrumental.  A few weeks ago, I released the results of that effort, Rise Up, Awaken.  
To go along with that, today I'm posting a video for the song.  It was a fun project to work on!  I have no training and minimal equipment, but was interested to see how things would turn out if I gave it a shot anyway.  I recently got a new phone with a better camera, and I knew I wanted to get some footage at Rehoboth Beach, DE, so it was a good excuse for me to go to the beach and play with my new toy.
I got lucky hiking my favorite beach trail and got some good footage of a buck and a crab- made me feel like I was working for National Geographic for a minute!
I finished up the footage by walking around my hometown of Lancaster, PA, added a few of clips from a website called Pexel.com, and then assembled everything using iMovie.  Low budget- low tech- pretty fun though!
Now I'm hoping people will listen to the song, watch the video, and get some joy or even inspiration out of it.  If not, at least both projects were a good way to amuse myself and to learn a few things.
Rise Up, Awaken is available for download/donation at our store page, and on most streaming sites.  Proceeds will benefit The Siera Club, The ACLU and Public Health Initiative.